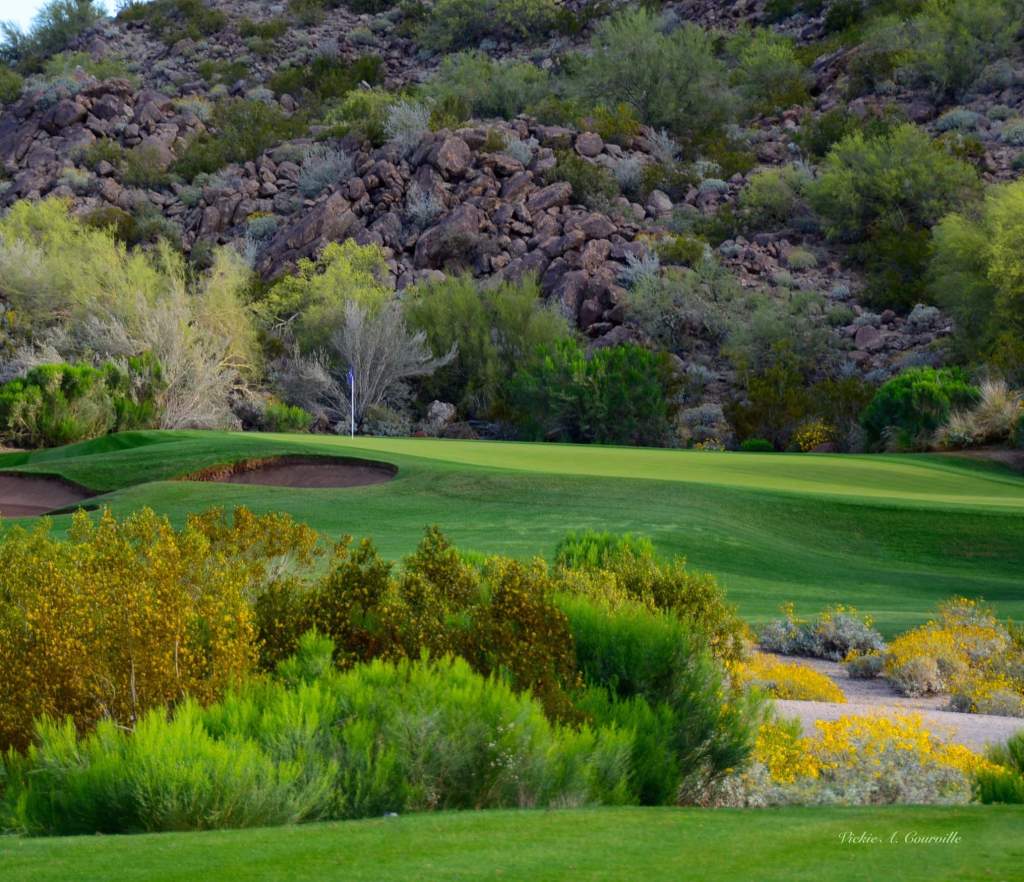 Golf is more than a game, it´s a lifestyle. It´s time to make it yours! Las Sendas Golf Club in Mesa, Arizona is an award winning, 18-hole championship course designed by Robert Trent Jones, Jr. Experience one of the best Golf Clubs in the Valley of the Sun sitting 2000´ above the Phoenix skyline and entire valley. The views from every hole are breathtaking and add to the ambiance of play. This true desert design offers challenges to test all levels of play, member exclusive events, social programs and all the amenities one would expect from a great Club. Las Sendas Golf Club is nationally recognized and has won recent acclaim as the "2013 Best of the East Valley" by the East Valley Tribune and "Best Golf Course" in Phoenix by New Times Magazine.
Las Sendas has invested over $9.5M since the new owners took over in late 2009 and the Club remains debt free. Our professional staff of PGA and LPGA members are here to ensure your daily experience is one that will make you want to play every day!
Our new memberships for 2021, including social, non-refundable and refundable programs are being offered to bring a limited amount of new members who have busy lifestyles or want to devote equal time to other activities.
Contact Wayne McBean at wmcbean@lassendas.com or call (480) 323-9364 for more information.
Limited quantity available
Programs
Junior Membership (45 & Under)
Introducing our Junior membership. In an effort to attract younger members with families to join Las Sendas Golf Club. This membership will mature at the age of 50.
Proxy Membership
No initiation fee and just monthly dues, play unlimited golf and be a full-fledged member.
Non-Refundable Membership
With a modest initiation fee and lower monthly dues, you and your family will experience everything Las Sendas has to offer.
Fully Refundable Membership
Our premier program offers a membership deposit that is 100% refundable.
Social Membership
For a low initiation fee and modest annual dues, you can be part of our vibrant membership and enjoy select member benefits including playing golf on a limited basis.
Family Pass
Our Family Pass is a great way for your family to get started with golf. For an affordable annual fee, your family can get unlimited green fees (with cart) and driving range access. Family Pass can only be used during off hours (after noon from 5/1 through 10/31, after 3 pm 11/1 through 4/30).
Membership FAQ's
Why is Las Sendas Golf Club going private when everyone else seems to be going public?
Las Sendas is going private because the demographics and population of the surrounding communities, including Las Sendas, Red Mountain, and Mountain Bridge, will support a private club.
Las Sendas has a completely different business plan from the traditional private golf club. First and most importantly, we are debt free and will continue to stay that way! We are presently a semi-privatefacility, which will transition into a private golf club. Our operational revenue is generated from public play and will only reduce once we sell memberships, which will have offsetting revenue. In addition, our food and beverage facilities drive additional profitable revenue and will remain open to the public. Las Sendas does not require memberships to be profitable, operational income exceeds our operational expenses. We are selling memberships because a private golf club is desired by these communities!

The reason many clubs are reverting from "private" to "semi-private" is a result of the present economy, reduced memberships and significant debt carried by the golf clubs themselves. Clubs with large mortgages cannot service their debt because their cash flow does not support their financial demands. As a result, private clubs are faced with cutting operational costs, reducing fees and offering public play in times unused by their members.
Is Las Sendas Golf Club going to be completely private?
Yes, the golf club will become private once we have 350 members, however we will continue to sell memberships until we cap at 450.
Will our other restaurants become private at the same time?
No, the restaurants will always remain "public." Private clubs with private restaurants often show a loss because their clientele is not large enough to make F&B operations viable. The additional business generated by the community allows the restaurants to operate efficiently allowing for better service, fresher products and a larger and more diverse menu.
What does "100% refundable Golf Memberships" mean?
100% refundable golf memberships mean that an existing member receives 100% of their initial deposit back when we sell their membership in the Club.
What types of memberships are available?
We offer several memberships to satisfy the needs of our communities. We are one of the only clubs in the immediate area that offers a 100% refund policy on the initiation fee, "single or primary golfer" memberships, seasonal or "snowbird" 6 month memberships and several other exclusive offerings.

For every 5 memberships sold, the initiation fee increases by $1,000.
Can I use my own cart at Las Sendas?
Yes, as a member you have the choice of using your own cart via a monthly trail fee. The cart must conform to our color and style guidelines. Members also have the option of walking the golf course at their discretion.
Do Member's Guests receive a discount?
Yes, all members receive a green fee guest rate which will vary based on the season. We will ensure that your guests receive a rate less than any of the tee time providers and local specials.
What membership benefits and services does the Club provide?
A newly renovated Clubhouse with Member-Only locker facilities
Participation in all Member-Only leagues, tournaments and social events
A 10% discount in all restaurants
10% discount in pro shop – offering all major brands
Oasis Midway House and Halfway House with restrooms and refreshments
Club storage facility included
Shoe shine facility
Member locker area and day use of shower facility included?
Unlimited use of practice facility and range balls included
Arizona Golf Association handicap management
We are very excited about our Privatization Plan and what we are doing to continually ensure Las Sendas Golf Club is rated as one of the finest clubs in Arizona.
For more information on membership at Las Sendas Golf Club, please contact:
Wayne McBean
Membership Director
Email: wmcbean@lassendas.com
Phone: (480) 396-4000 ext. 201